< Back to Sound Libraries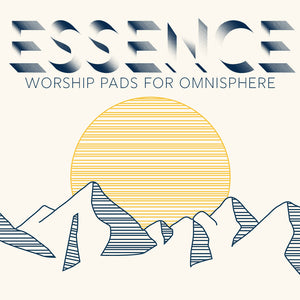 Essence: Vol 1 Worship Pads for Omnisphere
Regular price $30 Unit price / per
Essence is a collection of worship pads for Omnisphere. In this release, you'll find ambient pads, bright pads, shimmer pads, analog synth pads, and many more pads designed specifically with a modern worship sound in mind.

We've received too many requests for Omnisphere worship patches to count, with many looking to begin to unlock the power of Omni 2 within our flagship Sunday Keys templates for MainStage and Ableton Live. You'll be able to use the presets in Essence in the DAW of your choice and Sunday Keys users will find our signature hands-on modifier control ready to go when using Essence within Sunday Keys.

Essence includes 20 "bread and butter" worship pad patches designed to suit the various pad styles found in modern worship music.

Omnisphere is a truly amazing instrument and we're so excited to offer these inspiring new worship presets for Omnisphere 2 users.

**You must own an up-to-date and fully authorized version of Omnisphere 2 to use Essence**
What's included in Essence: Vol 1
20 Omnisphere worship pad patches, each pre-mapped to every section of Sunday Keys for MainStage for easy integration with Patch Builder.
These patches will open in any MainStage 3.4 concert and when opened in Sunday Keys you'll get access to the on-screen modifiers and Patch Builder functionality.
Easy, drag and drop Installer.
System requirements

Computer capable of running the latest version of Omnisphere 2.
Licensed, fully authorized and up-to-date version of Omnisphere 2.
Use Omnisphere 2 and Essence Vol 1 in any DAW that supports AU instruments such as Logic Pro X, Pro Tools, Ableton Live, MainStage 3, etc. or run Omnisphere 2 in stand-alone mode.
Mac computer capable of running MainStage 3.4 or newer.
8 GB of RAM MINIMUM. 16 GB RAM is highly recommended.
100 MB hard drive space for installation
Frequently Asked Questions
Sunday Keys
The ready to use template designed to be the foundation of your worship keys rig