< Back to Sound Libraries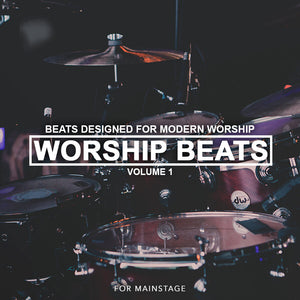 Worship Beats Vol 1- Worship Beats and Loops for MainStage 3
Regular price $25 Unit price / per
Worship Beats Vol 1 for MainStage 3 gives you 15 fully customizable drum beats perfect for all styles of modern worship music within our intuitive Sunday Keys MainStage Template. 

These beats are designed to give you full control over how they sit in the mix. Bring different elements in or out on the fly, dial in the character of the beat in advance, and set ANY tempo at the patch level or even in the moment via tap tempo.

Each patch in Worship Beats Vol 1 is pre-mapped to Section 4 of Sunday Keys, which means you can play along with up to three, full section sounds from Sunday Keys. You can also use the beats easily with our song specific patches, or any other MainStage patch within Sunday Keys.

Use the sounds in Worship Beats Vol 1 to supplement your live band, for stripped down acoustic sets, and as a songwriting/rehearsal tool.

This Sunday Keys expansion pack unlocks features that have never been easily accessible before in MainStage. Feel the beat!
What's included in Worship Beats: Vol 1
This library includes 15 distinct kits/feels and a whopping 40 different patterns spread across those 15 kits!

These patches have been pre-mapped to our flagship Sunday Keys MainStage template. Opening these patches within Sunday Keys unlocks sound-shaping control within our signature Patch Builder workflow.

Worship Beats is designed specifically for users of the SUNDAY KEYS MAINSTAGE TEMPLATE and is pre-mapped to Section 4 of SK's modular sections. Whether you're using the Korg nanoKontrol2, TouchOSC, or any other midi controller it's totally intuitive to take hands-on control of these loops.

Super simple installer .pkg file w/ link to installation video
System requirements

Worship Beats is designed for users of the Sunday Keys MainStage Template. If you use a different MainStage template we recommend you purchase Worship Beats only if you're very comfortable with the inner workings of MainStage assignments and mappings as these patches will not automatically translate to other MainStage concerts.

Mac computer capable of running MainStage 3.4 or newer.
8 GB of RAM or higher is recommended. *NOTE* Since these patterns are generated by MainStage in real-time we strongly recommend users have a minimum of 8 GB RAM and a processor that's up to the task. Quad-core 2.1 ghz or greater is strongly recommended. 
20 MB hard drive space for installation
Worship Beats requires you to download MainStage's Factory Sample Library, specifically all of the included drum samples. Make sure you have space on your hard drive for MainStage's Factory Sample Library before purchasing
Worship Beats.
Frequently Asked Questions
Sunday Keys
The ready to use template designed to be the foundation of your worship keys rig