< Back to Sound Libraries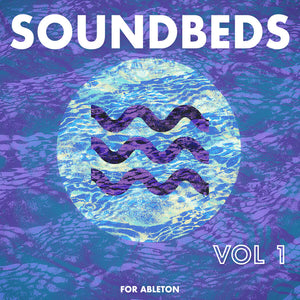 Soundbeds: Vol 1 Ableton Worship Patches
Regular price $30 Unit price / per
Soundbeds are designed to bring new life, movement, and inspiration to your go-to layered worship patches. Instantly add new texture, motion and interest to any piano, pad, or synth sound by layering a soundbed in with your sounds. A well-tuned soundbed will enhance but not distract from what you already love about your worship patches when you need it to and can also stand out on top as the primary texture in a patch.
This new expansion pack for Sunday Keys includes 20 all new worship patches each meticulously designed to bring something new to your sound design. Inside this library you'll find textures ranging from simple to evolving, noisy and percussive to glitchy and unique. 

New, custom-sampled soundsources captured from vintage and analog synthesizers form the foundation of many of these patches and there's nothing in Ableton Lives' factory library anything like them. 

You won't find these sounds anywhere else!

Each sound is Patch Builder ready so you can make full use of these sounds in Sunday Keys.
What's included in

 Soundbeds: Vol 1
20 Ableton Live worship soundbed Instruments, all enclosed in instrument racks.
These presets can be used in any Ableton Set within Live 9 or 10, Intro, Standard, and Suite
Installation instructions are also included in your download
System requirements

Mac or Windows computer capable of running Ableton Live 9 or 10, Intro, Standard, or Suite.
8 GB of RAM MINIMUM, 16 GB RAM is highly recommended.
60 MB hard drive space for installation
Audio Demos
Distorted Dream Choir Soundbed + Sunday Keys Warm Pad
Breath in Flight Soundbed + Sunday Keys Pad & Rhodes
Trembling Echo Soundbed + Sunday Keys Pad, Piano, Bass
Frequently Asked Questions
Sunday Keys
Discover the foundation of your worship keys rig