< Back to Sound Libraries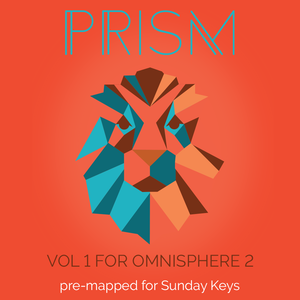 Prism Vol 1- Omnisphere 2 Worship Patches
Regular price $30 Unit price / per
Introducing the first release from Sunday Sounds for the amazing Omnisphere 2 plugin by Spectrasonics!
Prism Vol 1 features a wide variety of staple presets designed for modern worship music. Inside you'll find epic pads, powerful dance synths and bass presets, arps and sidechain sounds, and even Rhodes and Wurlitzer presets sampled from our founder David's vintage electric pianos.
This release includes a total of of 30 Omnisphere patches, 10 multis, and 8 custom recorded soundsources.
We've received too many requests for Omnisphere worship patches to count, with many looking to begin to unlock the power of Omni 2 within our flagship Sunday Keys templates for MainStage and Ableton Live. You'll be able to use the presets in Prism Vol 1 in the DAW of your choice and Sunday Keys users will find our signature hands-on modifier control ready to go when using Prism within Sunday Keys. 
Omnisphere is a truly amazing instrument and we're so excited to offer these inspiring new worship presets for Omnisphere 2 users.
**You must own an up-to-date and fully authorized version of Omnisphere 2 to use Prism Vol 1**
SCROLL DOWN FOR ADDITIONAL INFO:
System Requirements
Computer capable of running the latest version of Omnisphere 2
Licensed and authorized version of Omnisphere 2
8 GB of RAM or higher is highly recommended
Use Omnisphere 2 and Prism Vol 1 in any DAW that supports AU instruments such as Logic Pro X, Pro Tools, Ableton Live, MainStage 3, etc. or run Omnisphere 2 in stand-alone mode.
45 MB Hard Drive Space for Prism Vol 1 installation.
Optional integration with the Sunday Keys MainStage Template and Sunday Keys for Ableton gives you on-the-fly tone-shaping controls. Sunday Keys is not required to enjoy Prism Vol 1.
What's included
30 Omnisphere 2 patches, 10 multis, and 8 custom recorded soundsources.
MainStage Patches and Ableton Instrument Rack file are included for direct integration with Sunday Keys for MainStage and Sunday Keys for Ableton.
Readme File
Frequently Asked Questions
Sunday Keys
Discover the foundation of your worship keys rig