< Back to Sound Libraries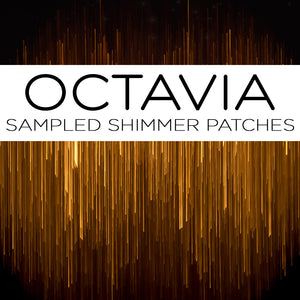 Octavia: Sampled Shimmer Patches for MainStage and Ableton Live
Regular price $20 Unit price / per
Octavia is a one-of-a-kind sound library featuring instruments built from 100% original samples that allows you to 'play shimmer' like it's an instrument.
This library was previously only available as a bonus during Sunday Sounds' 2021 Easter Sale and was enjoyed by hundreds at that time. Since then we've received numerous requests from those who missed out on this amazing library so it's now available for purchase permanently at Sunday Sounds. 

Library features ten unique patches, each featuring custom samples you won't find anywhere else. Your purchase includes all ten patches in both MainStage and Ableton Live formats, ready to use in Sunday Keys or any other Concert/Set. 
This library fully supports Easy Transpose in the newest version of Sunday Keys for MainStage.
What's included

What's included in Octavia

10 worship pad patches, each pre-mapped to every section of Sunday Keys for easy integration with Patch Builder.

These patches are available for both MainStage and Ableton Live and when opened in Sunday Keys you'll get access to the on-screen modifiers and Patch Builder functionality. This library fully supports Easy Transpose in the newest version of Sunday Keys for MainStage.

System requirements


Computer capable of running MainStage 3.4 (or newer) or capable of running Ableton Live 9 or newer Intro, Standard or Suite. Ableton Live Lite is not supported.

8 GB of RAM MINIMUM. 16 GB RAM is highly recommended.

600 MB hard drive space for installation



System requirements

What's included in Octavia

10 worship pad patches, each pre-mapped to every section of Sunday Keys for easy integration with Patch Builder.

These patches are available for both MainStage and Ableton Live and when opened in Sunday Keys you'll get access to the on-screen modifiers and Patch Builder functionality. This library fully supports Easy Transpose in the newest version of Sunday Keys for MainStage.

System requirements


Computer capable of running MainStage 3.4 (or newer) or capable of running Ableton Live 9 or newer Intro, Standard or Suite. Ableton Live Lite is not supported.

8 GB of RAM MINIMUM. 16 GB RAM is highly recommended.

600 MB hard drive space for installation



Frequently Asked Questions
Sunday Keys
Discover the foundation of your worship keys rig