< Back to Sound Libraries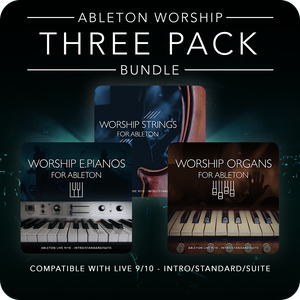 Ableton Worship Presets- Three Pack
Regular price $70 Unit price / per
Save with this bundle of three Ableton Instrument Packs, all designed for modern worship and ready to be used in Sunday Keys for Ableton or any other Ableton 9/10 Set in Intro, Standard, or Suite. No (paid) 3rd party plugins required!
Included in this three-pack:

Worship E. Pianos for Ableton

Worship Strings for Ableton

Worship Organs for Ableton
**IMPORTANT** Worship Strings for Ableton requires the free "Labs Strings" VST/AU plugin from Spitfire Audio which is available here.
SCROLL DOWN FOR ADDITIONAL INFO:
What's included
Zip files for each of the three bundles included.
Ableton Live 9/10 Intro/Standard/Suite compatible .als (Ableton Live Set) file.
This set file contains all included presets with a Macro mapped to browse/audition the presets.
50 Ableton Instrument Racks/Presets
50 Instrument Racks/Presets total across the three packs.
System Requirements
Mac or Windows computer capable of running Ableton Live 9.7 or newer (Intro, Standard or Suite) OR Ableton Live 10.0 or newer (Intro, Standard or Suite).
These Ableton Packs will NOT work in Ableton Live Lite.
8 GB of RAM or higher is recommended
600 MB hard drive space for installation
Frequently Asked Questions
Sunday Keys
The ready to use template designed to be the foundation of your worship keys rig