Worship Beats Vol 2- Sunday Keys Expansion
Worship Beats Vol 2- Sunday Keys Expansion
Worship Beats Vol 2- Worship Loops and Beats for MainStage 3
$25.00
*NOTE: CURRENTLY MAINSTAGE 3.4.2 AND BELOW COMPATIBLE. WE ARE WORKING ON ADDING 3.4.3 COMPATIBILITY AND WILL PROVIDE OWNERS WITH UPDATE.
Worship Beats Vol 2 for MainStage 3 gives you 15 fully customizable drum beats perfect for all styles of modern worship music within our intuitive Sunday Keys MainStage Template.

Vol 2 contains all new beats designed specifically to have more of an acoustic drums vibe that can hold down the rhythm responsibilities if you're sans drummer AND is designed to perfectly compliment your live drummer as well.

These beats are designed to give you full control over how they sit in the mix. Bring different pieces in or out on the fly, dial in the character of the beat in advance, and set ANY tempo at the patch level or even in the moment via tap tempo.

Each patch in Worship Beats Vol 2 is pre-mapped to Section 4 of Sunday Keys which means you can play along with up to three full section sounds from Sunday Keys, our song specific patches, or any other MainStage patch within SK.

Use the sounds in Worship Beats Vol 2 to supplement your live band, for stripped down acoustic sets, and as a songwriting/rehearsal tool.

This Sunday Keys expansion pack unlocks features that have never been easily accessible before in MainStage. Feel the beat!

***Worship Beats Vol 2 makes use of the "Drum Kits" and "Electronic Drum Kits" MainStage sound library content. This content is a free download included with MainStage and accessible via the Sound Library Manager within MS3.***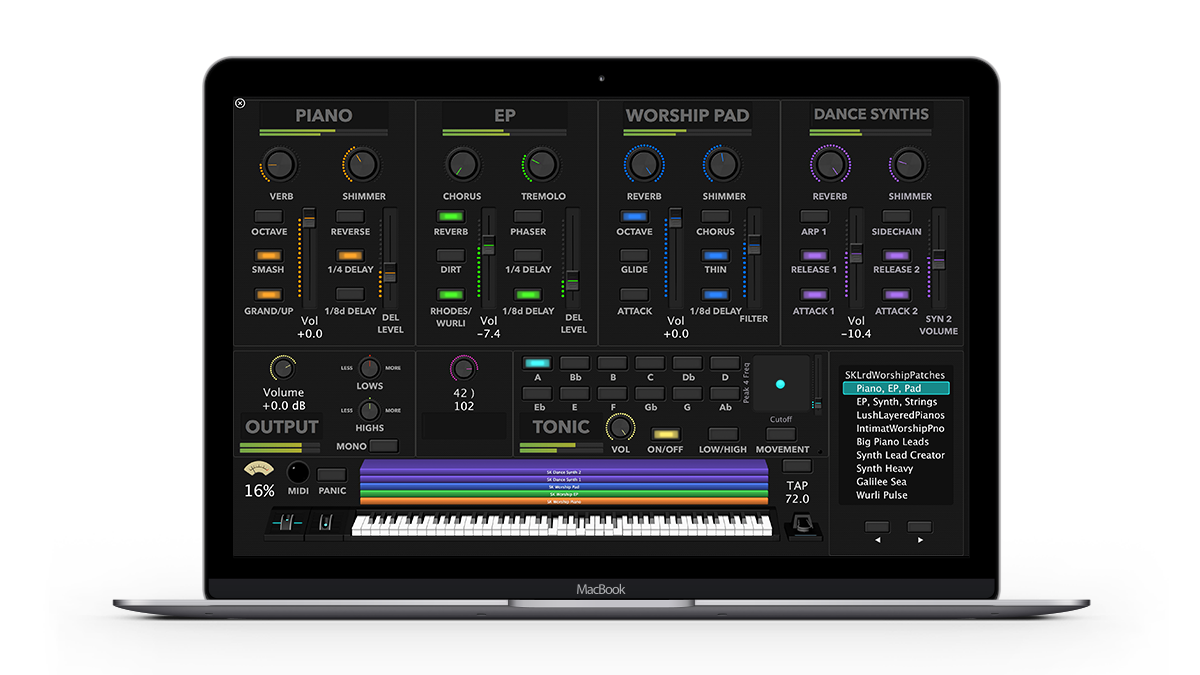 Pre-Mapped for Sunday Keys
WORSHIP BEATS VOL 2 FOR MAINSTAGE IS AVAILABLE IN TWO VERSIONS
WORSHIP BEATS VOL 2
$25
Designed for Worship
---


Beats designed for Sunday Keys for MainStage
15 MainStage patches, each containing unique kits/phrases
Easy Installation
All files neatly organized in folders
Pre-mapped for Sunday Keys for MainStage







WORSHIP BEATS BUNDLE
$50
Best Value!
---
SYSTEM REQUIREMENTS

Mac computer running MainStage 3.3 or higher

8 GB of RAM or higher is REQUIRED

Note: These patches do make use of MainStage's sample content and require a decent amount of RAM to utilize. Check out the demo video above for more info.

3 MB Hard Drive Space

Optional, but recommended: Sunday Keys MainStage Template

You can open these patches in any MainStage 3 concert or Logic Pro X project, but you get pre-mapped, on the fly control when opening these patches within our Sunday Keys MainStage template. When opening them in another MainStage concert, you're able to map parameters to your own on-screen workspace as you desire.

Just like Sunday Keys, this expansion pack makes full use of the Korg nanoKontrol2 midi-controller and/or TouchOSC app but can be easily mapped to use with any other midi controller.

WHAT'S INCLUDED

15 Patches

You can open these patches in any MainStage 3 concert or Logic Pro X project, but you get pre-mapped, on the fly control when opening these patches within our Sunday Keys MainStage template. When opening them in another MainStage concert, you're able to map parameters to your own on-screen workspace as you desire.

15 Channel Strip Files for use in MainStage or Logic Pro X

You can open these channel strips in any MainStage 3 concert or Logic Pro X project.

1 Set File

Set files are folders/containers of patches. This set file makes it easy to import all the patches pre-mapped to their specific section in Sunday Keys.

Readme File

INSTALLATION VIDEO

Check out this video for installation instructions:
FREQUENTLY BOUGHT TOGETHER