Sculptures for MainStage 3- Worship Patch Bundle
Sculptures for MainStage 3- Worship Patch Bundle
Sculptures for MainStage 3 and Logic Pro X features 30 professionally designed worship patches and presets designed with the unique and organic "Sculpture" plugin.
Inside this release you'll find lush and warm ambient worship pads, textures perfect for adding ambience to worship music, arp and bpm patches, and rich, evolving soundbeds that border on the cinematic.
Each preset has been level matched and EQ'd and is ready for the stage or the studio in MainStage or Logic Pro. When you open these patches in our flagship Sunday Keys MainStage Template you gain additional tone-shaping controls via our signature, pre-mapped sound modifiers designed specifically for on-the-fly live performance.
"The sounds in Sculptures felt special as I was designing them. The creative process felt a lot more like "uncovering" sounds versus designing them. I'm very proud of the presets in Sculptures and I think they'll play a special role in live worship bands and in studio production environments as well. Thank you for taking the time to explore this library." - David Pfaltzgraff, Founder and Lead Sound Designer- SundaySounds.com

** Note ** Several years ago we released a free library of patches under the name "Sculptures". While that sound library has not been available for a long time, we received tons of positive feedback back then on those sounds created within the Sculpture plugin. That positive response was part of what inspired us to create a library featuring ALL NEW sounds created using the Sculpture plugin. If you happened to have downloaded that free library once upon a time, rest assured that this new release has been built from scratch and does not contain any of the same presets.
SCROLL DOWN FOR VIDEO DEMO AND ADDITIONAL INFO: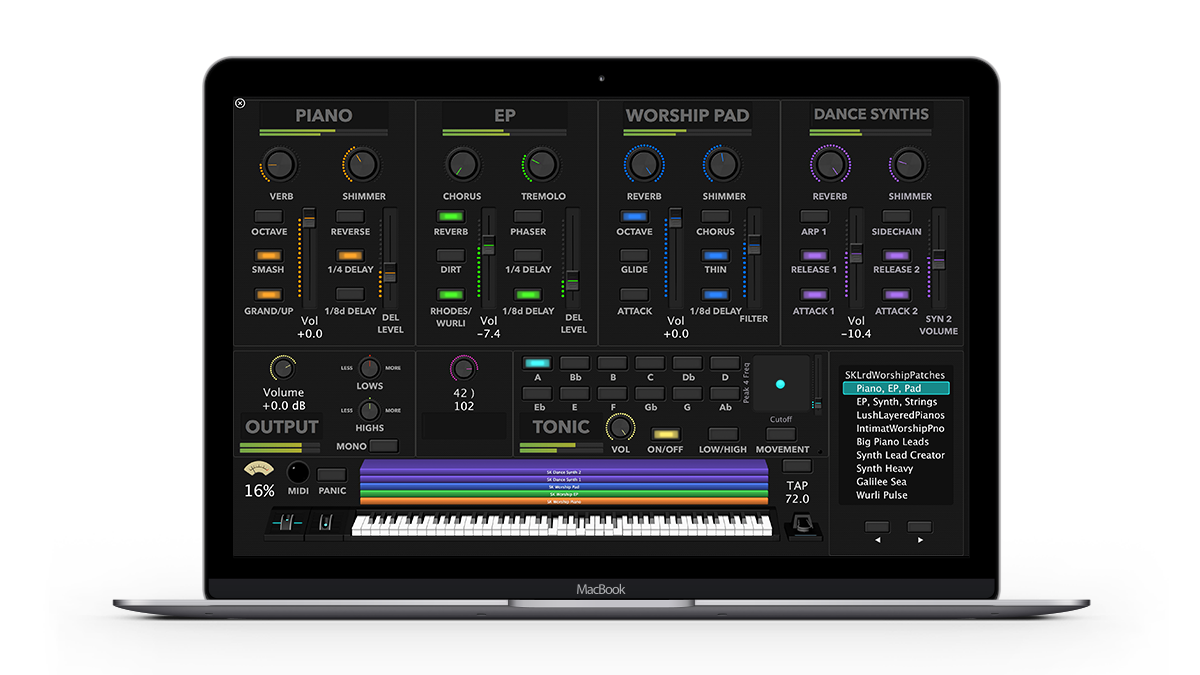 Pre-Mapped for Sunday Keys for MainStage
SYSTEM REQUIREMENTS

Mac computer running MainStage 3.3 or higher

8 GB of RAM or higher is highly recommended.

15 MB Hard Drive Space for installation.

Sculptures relies upon MainStage/Logic Pro's factory sound library content only.

Optional, but recommended for live performance in MainStage: Sunday Keys MainStage Template

You can open these patches in any MainStage 3 concert or Logic Pro X project. You get pre-mapped, on the fly control when opening these patches within our Sunday Keys MainStage template. When opening them in another MainStage concert or Logic Project, you're able to map and control parameters as you desire.

WHAT'S INCLUDED

30 MainStage Patches

You can open these patches in any MainStage 3 concert or Logic Pro X project. You get pre-mapped, on the fly control when opening these patches within our Sunday Keys MainStage template. When opening them in another MainStage concert or Logic Project, you're able to map and control parameters as you desire.

These patches are duplicated for each of the four Sunday Keys sections; the total number of patches (including duplicates) is 120.

31 Channel Strip Files for use in MainStage or Logic Pro X

You can open these channel strips in any MainStage 3 concert or Logic Pro X project.

5 Set Files

Set files are folders/containers of patches. These set files make it easy to import all the patches pre-mapped to a specific section in Sunday Keys. There is one set for each of the four pre-mapped sections of Sunday Keys.

Readme File

INSTALLATION VIDEO

Check out this video for installation instructions:
FREQUENTLY BOUGHT TOGETHER