Anthem Pianos: The Giant- Worship Piano Patches for MainStage 3
Anthem Pianos: The Giant- Worship Piano Patches for MainStage 3
This bundle of MainStage patches utilizes the beautiful piano plugin "The Giant" by Native Instruments, to deliver inspiring and diverse piano patches from dark and moody to bright and aggressive-all created for the modern worship keyboard player.
Anthem Pianos: The Giant, is designed to drop right into the section one slot of our popular Sunday Keys MainStage Template. This provides you with deep and on the fly control over numerous parameters like piano tone, reverb, compression, delay, and more.

Your download includes 10 MainStage patches, each with unique character and modifier mappings designed to let you tweak each sound as needed. Channel strip files for each preset are also included for easy importing into a Logic Pro X project. Finally, a set file is included to let you quickly add all 10 patches into your Sunday Keys or other MainStage 3 concert.
These piano patches sound great on their own, or you can easily combine them with the layers from Sunday Keys or any other patch bundle from Sunday Sounds to create amazing layered worship patches.
**Requires "The Giant" plugin. Click here to purchase The Giant**
SCROLL DOWN FOR VIDEO DEMO AND ADDITIONAL INFO: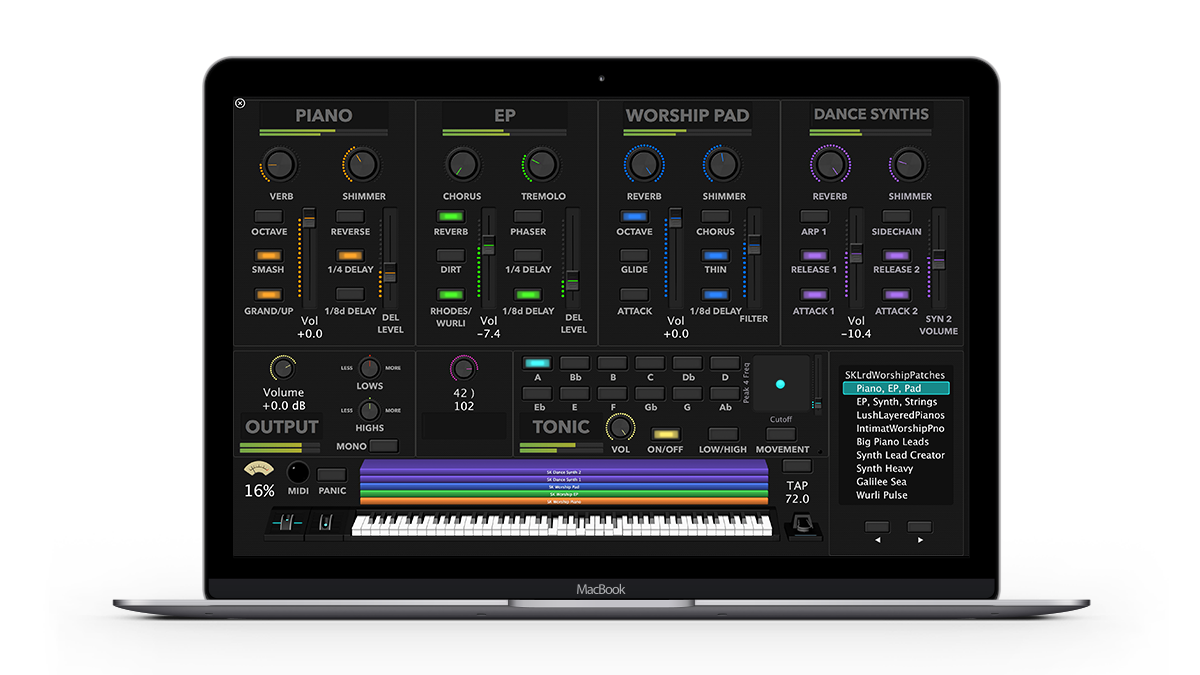 Pre-Mapped for Sunday Keys
SYSTEM REQUIREMENTS

Mac computer running MainStage 3.3 or higher

8 GB of RAM or higher is REQUIRED

50 MB Hard Drive Space for Anthem Pianos: The Giant installation

Anthem Pianos: The Giant uses The Giant sample library by Native Instruments, available for download here.

Optional, but recommended: Sunday Keys MainStage Template

You can open these patches in any MainStage 3 concert or Logic Pro X project, but you get pre-mapped, on the fly control when opening these patches within our Sunday Keys MainStage template. When opening them in another MainStage concert, you're able to map parameters to your own on-screen workspace as you desire.

WHAT'S INCLUDED

10 Patches

You can open these patches in any MainStage 3 concert or Logic Pro X project, but you get pre-mapped, on the fly control when opening these patches within our Sunday Keys MainStage template. When opening them in another MainStage concert, you're able to map parameters to your own on-screen workspace as you desire.

10 Channel Strip files for use in MainStage or Logic Pro X

You can open these channel strips in any MainStage 3 concert or Logic Pro X project.

Readme File

INSTALLATION VIDEO

Check out this video for installation instructions:
FREQUENTLY BOUGHT TOGETHER