Anthem Pianos: Electric Pianos- Worship E. Piano Patches for MainStage 3
Anthem Pianos: Electric Pianos- Worship E. Piano Patches for MainStage 3
Anthem Pianos: Electric Pianos is a brand new collection of rich, diverse, and eclectic electric piano patches for MainStage 3, designed for modern worship music, using only MainStage stock plugins and FX.
This patch library was conceptualized after seeing the overwhelmingly positive response to our previous "Anthem Pianos" releases, which focused on creating all new acoustic piano presets that were huge improvements over MainStage 3's stock pianos. When we realized how much this concept resonated with MainStage users we decided to take that same goal- designing presets that were miles ahead of MainStage's stock sounds in sound quality, expressiveness, and playability- and apply it to a bundle of patches focused on electric piano sounds.
Your download includes 10 worship e.piano patches featuring studio quality FX processing, and on the fly control when used within our Sunday Keys MainStage Template. You can also utilize these patches in any other MainStage 3 concert and in Logic Pro X for recording projects.
SCROLL DOWN FOR VIDEO DEMO AND ADDITIONAL INFO: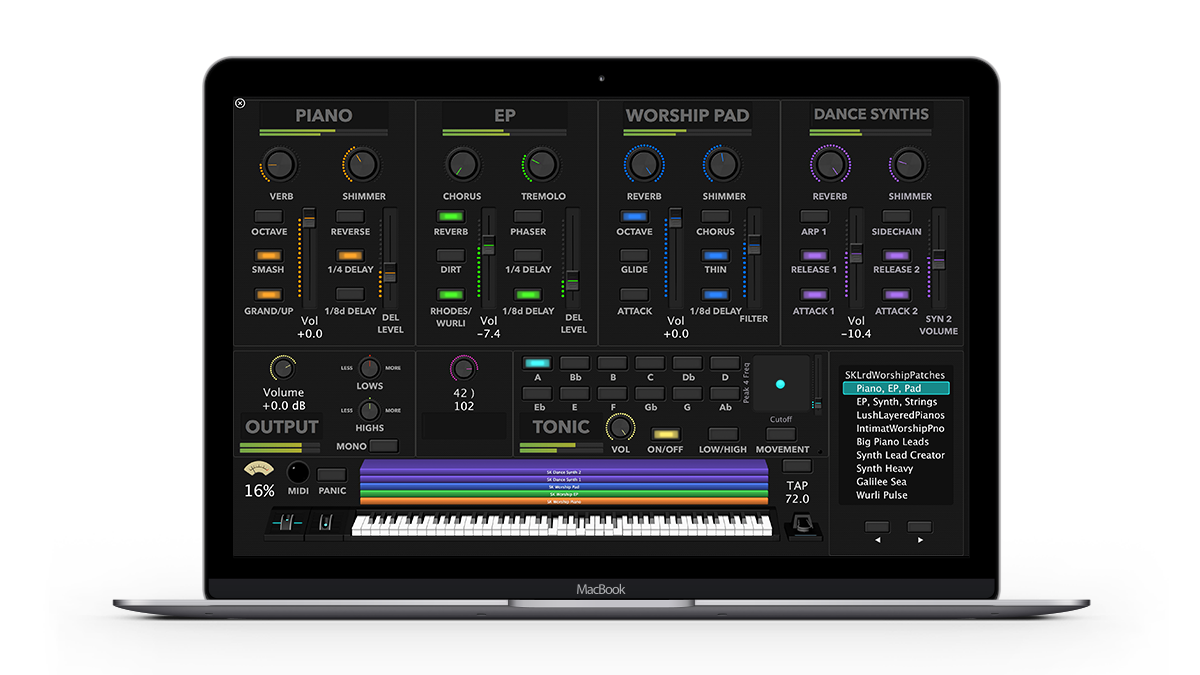 Pre-Mapped for Sunday Keys
SYSTEM REQUIREMENTS

Mac computer running MainStage 3.3 or higher

8 GB of RAM or higher is REQUIRED

15 MB Hard Drive Space

Optional, but recommended: Sunday Keys MainStage Template

You can open these patches in any MainStage 3 concert or Logic Pro X project, but you get pre-mapped, on the fly control when opening these patches within our Sunday Keys MainStage template. When opening them in another MainStage concert, you're able to map parameters to your own on-screen workspace as you desire.

WHAT'S INCLUDED

10 Patches

You can open these patches in any MainStage 3 concert or Logic Pro X project, but you get pre-mapped, on the fly control when opening these patches within our Sunday Keys MainStage template. When opening them in another MainStage concert, you're able to map parameters to your own on-screen workspace as you desire.

These patches are duplicated for each of the four Sunday Keys sections; the total number of patches (including duplicates) is 40.

10 Channel Strip files for use in MainStage or Logic Pro X

You can open these channel strips in any MainStage 3 concert or Logic Pro X project.

4 Set Files

Set files are folders/containers of patches. These set files make it easy to import all the patches pre-mapped to a specific section in Sunday Keys. There is one set file per pre-mapped section.

Readme File

INSTALLATION VIDEO

Check out this video for installation instructions:
FREQUENTLY BOUGHT TOGETHER